Female start-ups had a watershed moment in 2019, with funds raised from venture capital touching an all-time high.1 But women entrepreneurs still receive a fraction of the overall pie, though that's starting to change—thanks, in part, to the proliferation of VC funds dedicated to supporting female founders.
While figures vary, there are now roughly 70 venture funds that have collectively raised over $2 billion to fund start-ups led by women.2 Yet, there's still room for improvement. Nearly three quarters of venture partners in these "gender-lens" funds are female, but only half the limited partners are women, according to a 2019 report by Wharton Business School (Display).3
Why aren't more female investors allocating to private equity and venture capital?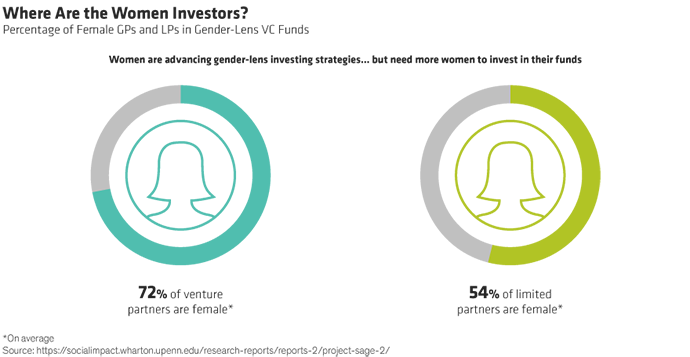 Risk Averse…or Risk Aware
By now, the cliché around gender differences in risk appetites has become firmly entrenched. But more nuanced thinking is starting to emerge. For instance, the CFA Institute recently published the results of interviews with over 800 women around the world conducted over the course of a decade, debunking the myth that female investors have an inherently lower tolerance for risk. Instead, they found that women tend to be risk aware.4
In other words, a woman will be moved to take a risk as long as she's intrigued by an opportunity and considers it aligned with her personal values and concerns. But if risk tolerance doesn't completely explain the disparity, what does?
Overcoming Other Hurdles
Other forces may be at play—including lack of familiarity with the benefits of alternative investments like venture capital and private equity. Over the long term, private equity has historically outperformed most public equity markets. And since its pattern of returns tends to differ, it typically plays a diversifying role. Plus, the number of private companies is on the rise, making for a growing pool of opportunities. But fledgling female investors often prefer to explore the essentials—like stocks, bonds, and asset allocation—before graduating to alternatives.
Some women (like their male peers) may also shy away from the illiquid nature of venture capital and private equity. Yet while the idea of tying up your assets for extended periods may sound unappealing, there are several reasons to embrace illiquidity. Overlooked benefits include a return premium, lack of daily market volatility, and attractive buying opportunities.
Then there's the inevitable question that crosses gender lines: how much should I invest? Figuring out which alternative investment is best suited and how much can be difficult. And for the most part, the answers to these questions have historically been driven by rules of thumb. But now, a next-generation framework for deciding how much to allocate is allowing for more precise determinations. Armed with these insights, women can work with their investment professionals to revisit the role private equity and venture capital might play in their overall portfolio.
Doing It for Themselves
According to Boston Consulting Group, female-controlled wealth globally could hit $72 trillion this year.5 That's prompted advocates like Pitchbook-All Raise to observe, "While most of that wealth won't qualify for private market investments, much of it will, and wealthy women can funnel commitments to female-founded companies and female-controlled VC firms over time."6 In other words, if female investors can rise to the challenge, the pay-off could be significant—both for them and their sisters in start-up nation.
1 "US VC Investment in Female Founders Hits All-Time High" https://techcrunch.com/2019/12/09/us-vc-investment-in-female-founders-hits-all-time-high/
2https://www.inc.com/magazine/201910/kimberly-weisul/venture-capital-female-entrepreneurs-funding-gap-fundery.html;
https://socialimpact.wharton.upenn.edu/research-reports/reports-2/project-sage-2/
3https://socialimpact.wharton.upenn.edu/research-reports/reports-2/project-sage-2/
4https://blogs.cfainstitute.org/investor/2019/11/21/women-and-wealth-three-findings-and-their-risks/
5Boston Consulting Group, Global Wealth 2016: Navigating the New Client Landscape
6https://pitchbook.com/news/reports/2019-pitchbook-all-raise-all-in-women-in-the-vc-ecosystem
For more tips on becoming financially engaged, explore Women & Wealth, a new Bernstein podcast series designed to educate, empower, and inspire female investors, and for additional thought leadership, check out the related blogs here.
Author
Beata Kirr

Co-Head—Investment & Wealth Strategies