Successful individuals are blessed to be able to transfer three things to heirs—wealth, values, and knowledge. Most plan for the transfer of money and many recognize the importance of passing along family values. But the last one—knowledge—is not as well understood. What knowledge should you transfer to heirs?
Top of mind for most parents are the things that children can be taught, such as how much money they have to spend, or how to save. But in the wake of COVID-19's extraordinary impact, navigating volatile markets has come to the fore. Enduring a downturn requires wisdom, perseverance, and financial literacy born of experience—vital knowledge to pass down to your heirs, too. And beyond the academic, stories of resilience and the purpose and vision for family wealth are also essential to share.
Below we provide a guide suggesting how knowledge might be taught and shared.
Enhance Financial Acumen
Design an education plan that teaches, at a minimum, the basics of financial literacy, investing and asset allocation, and about various types of investments (Display). Of course, there are other concepts to know, but understanding these basic ideas will allow heirs to have informed conversations with advisors and other wealth professionals.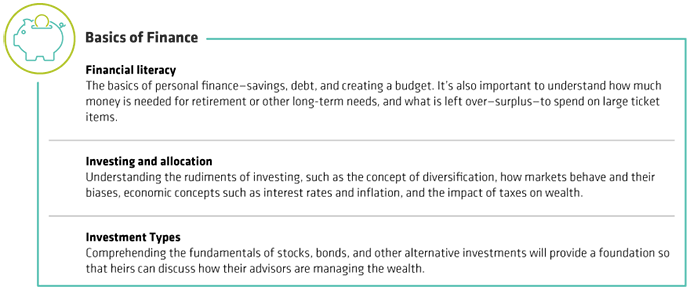 Sharing Your Story

Along with financial education, it's crucial to share your family's story, because your wealth is broader than the amount you transfer. It's about pivotal moments, mistakes to avoid, significant values, and a lifetime of personal wisdom accumulated through trial and error.
Your heirs should know what the wealth means to you, and the risks and opportunities they face. They will have a greater emotional stake if they grasp the story—including sacrifices—involved in its achievement. We believe it starts with sharing several key elements—your family legacy, how success was achieved, your guiding principles, expectations for the wealth, and family philanthropy (Display).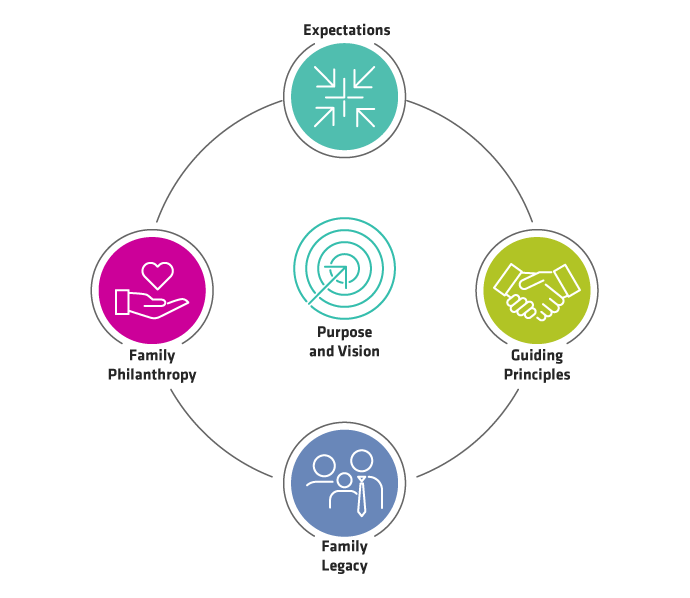 Legacy: Many consider legacy as the amount of assets left to heirs or charity. But it goes deeper. Legacy is how you want to be remembered and what you want future generations to know about you.
Guiding Principles: Think of this like the folk tales passed down through generations. What key lessons—both failures and successes—should be shared and what are the values by which you live.
Expectations: Access to the money and the type of lifestyle the wealth is expected to provide or not provide should be defined. Prospects for a family business—how long should it operate—should also be framed. Setting reasonable expectations and defining what would disappoint you will ensure everyone is on the same page.
Philanthropy: If you are charitably inclined, you'll likely want your heirs to carry on with your philanthropic endeavors. Talk to them about the causes you're passionate about, what gifts you plan to make, and if or how you want them to be involved. Find out what charities they gravitate toward, and see if their causes can be part of the family philanthropy.
Even during times of widespread social isolation, sharing your wisdom can help bridge the divide between generations, overcome the strain of distance, and bring family members closer together. While incredibly disruptive, today's crisis can help pave the way for prosperity rooted in a shared set of goals and values.
Beyond the Numbers
Financial success goes beyond the numbers. It's about the story behind the wealth and the aspired legacy. And that means parents need to educate heirs on how to handle wealth and share stories about their journey. Because managing substantial financial assets can be a complex undertaking. You want to equip your future family leaders for the challenge.
To learn more about family engagement, read Are Your Heirs Prepared? and Are Your Heirs Engaged?
Author
Heather George

Director—Wealth Strategies