Financial decision makers at nonprofits and foundations today are grappling with a confluence of concerns they haven't needed to address for quite some time. This includes a dramatic reversal of what had been an almost uninterrupted smooth ride for investors in the public markets, a global slowdown that has been further exacerbated by the economic effects of the coronavirus, and interest rates at all-time lows.
This changing landscape has led boards to question their roles as fiduciaries. In particular, is this duty subject to change as the economic and investment landscape evolves?
Fiduciary Basics
Boards of directors of nonprofits occupy a unique role as the stewards of their organizations' resources and "guardians of its mission."† It is critical in this climate that they understand their fiduciary duty, and how it underpins both financial sustainability and mission advancement. So let's get back to basics and review fiduciary roles and responsibilities.
A fiduciary is someone who acts on behalf of another based on an expectation of trust. A nonprofit's or foundation's board is the central decision-making body for the organization and thus has ultimate responsibility and accountability for the organization's actions. Nonprofit fiduciary duty comprises the duty of care, the duty of loyalty, and the duty of obedience†(Display).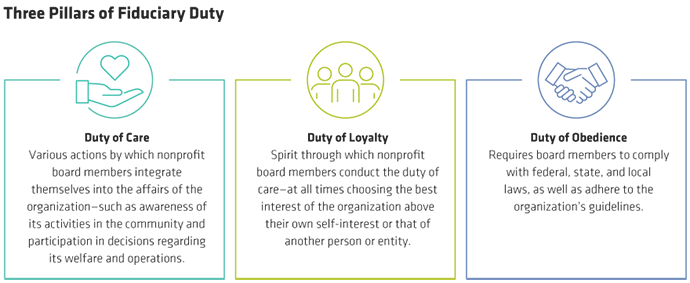 Fiduciary duty is as much about the rationale for and process by which decisions are made as the impact or outcome of those decisions. For example, a board may approve an investment that ultimately underperforms, but as long as the board has documented a thoughtful rationale and process, there is no breach of fiduciary duty. Conversely, a board may approve an investment that directly benefits one director, or that has an exceedingly high risk of complete loss; even if the investment performs well, this could be construed as a breach of fiduciary duty.
A Fiduciary Duty Checklist
The following are guidelines to assist board members in fulfilling fiduciary duty: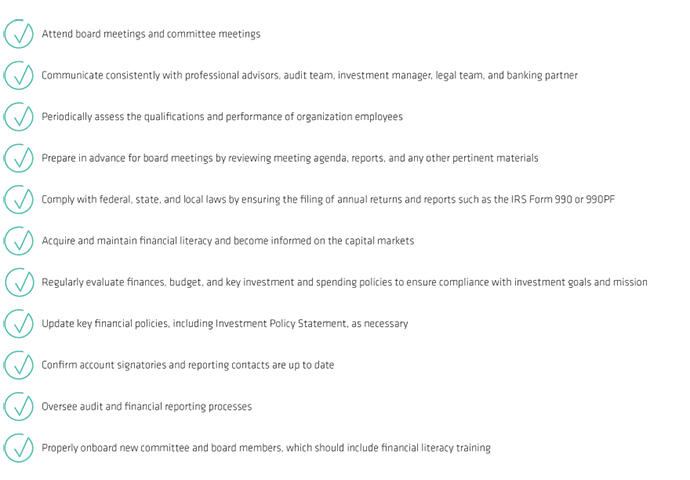 Financial Responsibility Is the Cornerstone
Underlying these responsibilities is financial accountability. Risk and return assumptions and expectations set forth in investment and spending policies, including those used in the construction of investment portfolios, should be updated periodically so they align with current capital markets forecasts. This is at the core of the Uniform Prudent Management of Institutional Funds Act (UPMIFA), the law which guides nonprofit investment decisions and endowment expenses.‡ It states that, withstanding certain exceptions for donor intent and specific purpose of funds, investing and spending should be at a rate that will preserve the purchasing power of the principal over the long term. Essentially, allocation and spending decisions for endowment and other long-horizon portfolios should align with forecasts that reasonably enable the organization to maintain its purchasing power after inflation.
Our analysis indicates that an organization invested in 60% global stocks and 40% taxable bonds should consider a spending rate of 3.3% to maintain its purchasing power (Display). If this rate doesn't satisfy the organization's needs, or if it is a private foundation required to spend 5% of the prior year-end asset value, additional strategies should be considered. For example, increasing exposure to equities, adding income-producing or alternative investments with diversified sources of return and risk, or ramping up fundraising may be needed to bridge the return gap.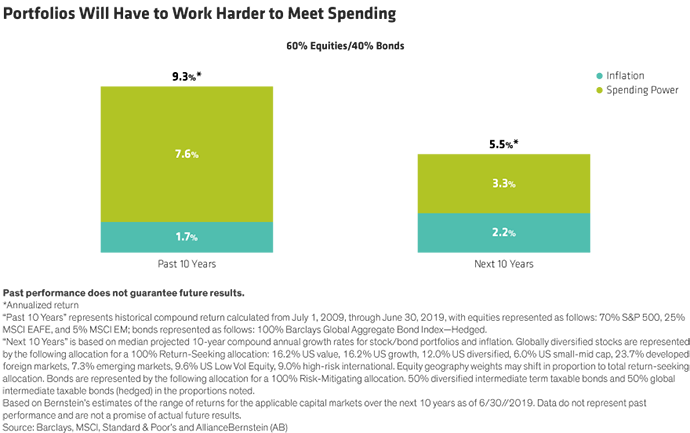 Evolving Duty?
So back to the original question: Is fiduciary duty subject to change as the economic and investment landscape shifts? The answer is no. Responsibility remains the same, but the fiduciary duty itself may require that the decisions made by fiduciaries need to change with the environment. Now may be one of those times.
† Legal Responsibilities of Nonprofit Boards, Bruce R. Hopkins, JD, LLM, SJD, Boardsource, 2019.
‡All states, District of Columbia, and US Virgin Islands have adopted UPMIFA except Pennsylvania and Puerto Rico. Individual states and territories may each adopt it differently.
For more on timely topics for nonprofits, explore " Inspired Investing," a Bernstein podcast series that covers investing, spending, policy, and more for Endowments & Foundations, and for additional thought leadership, check out the related blogs here.
Author
Clare Golla

National Managing Director—Philanthropic Services