During the year-end holiday season, many families pause their busy lives and gather together to reflect on their blessings. It's also a time when thoughts of charitable giving are front of mind, and many make donations. But the holiday season is not the only opportunity to fulfill a philanthropic mission. Put philanthropy in motion year-round by engaging heirs in the family's values and charitable interests. That way, everyone can be involved in giving back throughout the year.
Getting started with family engagement
Families often ask us how they can pass on values and the importance of giving back. Your children or grandchildren may already be involved with your philanthropy. If not, you may be wondering when and how to prepare them to participate. Some families include children in volunteer activities, starting at an early age. Others use private foundations, donor-advised funds, or annual charitable giving as ways to get heirs involved in philanthropy and to manage wealth now.
Wondering where to start? The grid below provides goals and ways to engage heirs of any age. It takes into account individual values and causes of interest. Whether your nine-year-old is beginning to volunteer or your thirty-year-old is taking on more financial responsibility for the family foundation, heirs of all ages can be an integral part of the family philanthropy. By tailoring participation to each heir's values and causes, they'll be inspired to engage and participate fully, to witness how their small or big acts can make a difference.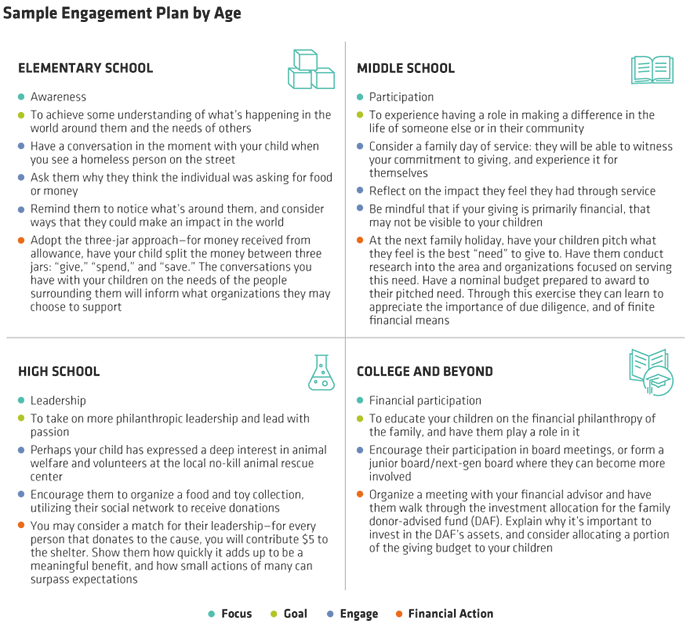 An ongoing effort
For families with established charitable goals and vehicles, communicating expectations, rules, and the mission of the plan is vitally important to ensure philanthropy lives on throughout the year. A best practice is to establish formal family philanthropy meetings, that are either wholly separate from, or at least a dedicated portion of other family meetings. These should be held at least annually at a time and location that is attainable for all members. Thanksgiving, for example, is a prime time when all are gathered together and in the spirit of giving back.
These family meetings, like any other business meeting, should have an agenda which communicates the goals of the conference—laying out the topics to be covered, and any prework that's required. Agendas should be drafted and distributed ahead of time, if possible. Consider asking for input or suggestions from family members before the meeting to maximize buy-in. It's also a good time for family members to pitch grants or other charitable ideas.
All giving matters
Family engagement recognizes the importance of altruism, compassion, and goodwill, bringing to the forefront that all acts of charity—whether they be gifts of assets, time, or voice—matter. By getting heirs involved today, families can find ways to give back throughout the year to causes and charities that align closely with all members' values.
To learn more, read our blogs, "Are Your Heirs Prepared?" and "Are Your Heirs Engaged?" And if you are interested in establishing a customized philanthropic plan, download our guide "Philanthropy: Rooted in Your Values."
Author
National Director—Family Engagement Strategy