While many women worry that poor investment decisions or volatility could harm their portfolios, they frequently underestimate the potential downside from unexpected legal issues. Unfortunately, investors with substantial assets are often more vulnerable to claims in today's litigious society—and these liabilities can wreak havoc on women's overall net worth. Here are some top tips based on working with clients who wish they could turn back time:
Post-Divorce Pointers
On top of the pain of divorce, lacking your own financial identity can complicate your attempts to move on. For instance, most financial institutions require proof of income before they'll extend credit for a mortgage or small business loan. That can prove challenging for newly single women who aren't primary breadwinners. To avoid the credit crunch, establish your own borrowing history while you're still married by having at least one credit card or personal loan solely in your name.
In addition to credit, don't overlook healthcare. Studies show that divorcing or separating women are three times more likely to lose their health insurance (Display) than their married counterparts. If you were covered under your ex's private policy when you were married, you may be able to keep your current coverage temporarily through a law called "COBRA"—provided you make an election within 60 days.1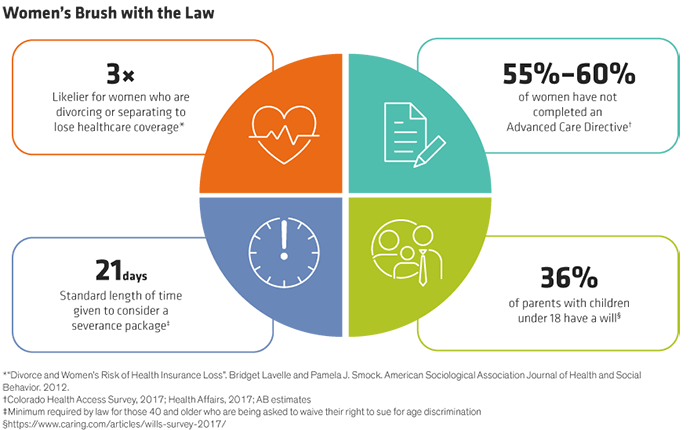 Advice for the Career-Minded
Sometimes even the highest-flying careers encounter headwinds. That's why you'll want to have a skilled employment attorney in your network on standby. The day you are handed a severance agreement is not the best time to scour the internet for a top labor lawyer. Often, you're given just a few weeks in which to sign.
Having a reputable name on file gives you greater flexibility to negotiate non-competes and non-solicitation agreements, vesting of deferred compensation, as well as the payment of commissions or bonuses. All these clauses can impact your future employment prospects, as well as your overall wealth. Connecting with an experienced advocate now can help protect your bottom line in the long run.
Healthful Hints
No one likes to think about becoming gravely ill, but what you don't talk about can hurt you. In contrast, deliberately conveying end-of-life preferences improves your chances of receiving the type of medical care you want.
It's especially important for women—given their propensity to live longer—to communicate their wishes beforehand. Yet research indicates that 55%–60% of women have not pursued advance care planning. A power of attorney for healthcare (known in some states as an Advance Healthcare Directive) essentially appoints someone who can make healthcare decisions in accordance with your wishes in case you become incapacitated. Such directives are associated with fewer hospitalizations, a lower likelihood of dying in the hospital, and increased use of hospice care.2
Suggestions for Asset Protection
Trusts and estates can be highly complex—and require significant customization, but there's one truism that applies across the board. If you have strong opinions on how you'd like your assets distributed, consult a legal professional to memorialize your views.
Some women defer this task, assuming they don't have enough assets to warrant a professional consultation. But it's not the size of your estate that matters, it's how passionate you feel about having your intentions respected.
Staying on top of your legal exposure is all about decision-making, power, and control. Thinking through your exposures in advance will help ensure that you remain in charge of your financial affairs for as long as possible, while limiting the potential for unforeseen, adverse circumstances that could impair your wealth.
Authors
Beata Kirr

Co-Head—Investment & Wealth Strategies

Andrea Kushner

Director—Wealth Strategies Group
1Under the Consolidated Omnibus Budget Reconciliation Act ("COBRA"), participants, covered spouses and dependent children may continue their plan coverage for a limited time when they would otherwise lose coverage due to a particular event, such as divorce(or legal separation). A covered employee's spouse who would lose coverage due to a divorce may elect continuation coverage under the plan for a maximum of 36 months. COBRA only applies to employers with 20 or more employees.

 2 https://www.coloradohealthinstitute.org/research/last-word-advance-directives-colorado
For more tips on becoming financially engaged, explore Women & Wealth, a new Bernstein podcast series designed to educate, empower, and inspire female investors, and for additional thought leadership, check out the related blogs here.