Thanksgiving came and went quietly for many Americans this year, without large gatherings of extended family or friends. There was no congregating in the kitchen or good-natured razzing while watching the football game—even traditional turkey trots were a no-go. Most people felt somewhat detached from loved ones, which begs the question as year-end holidays approach, "How can we stay connected and maintain family rituals?" While we cannot be physically present, we can still uphold traditions—just in a different way.
Traditions Reflect Values
Family traditions help strengthen bonds and build lifetime memories. They often reflect essential values and principles. Many individuals rely on actions, rather than words, to express their familial beliefs—and holiday traditions tend to fall into this camp. Everyone retells stories of when Uncle Peter served a half-cooked turkey, Aunt Sally's cat knocked over the holiday decorations, or you learned Grandpa Joe was a secret card shark! These memories are often passed along from generation to generation. Just because you may not be together this year doesn't mean new memories can't be created and old ones remembered. Here are a few ideas to help preserve your family traditions:
Revive Past Traditions: Many family rituals are tied to activities that have been replicated for years, or even generations. For example, baking together. While warm treats ultimately emerge from the oven, it's the sense of closeness and intimacy that makes it so special. This year, with physical gathering ruled out, try substituting a virtual holiday bake-a-thon. Grab your apron, pour the inevitable glass of wine, and video chat your way through the icing and sprinkles.
Recreate the Holiday Spirit: Gathering around the dinner table ranks among families' most cherished traditions. But you can still convene a virtual family dinner complete with festive music, meaningful blessings, and warm toasts to another year. Talk about your favorite activity or laugh about fond memories, revitalizing family values and connections. You could have an informal chat or organize a specific activity. Examples include:
Perform a family skit, song, or dance centered on a theme or tied to the particular holiday—such as giving thanks
Relay a favorite memory from past holidays
Share collages that reflect your year while explaining the meaning of each picture
Put together a slide show with photos from past holidays
Play a game of charades, Pictionary, or name that tune
The idea is to have fun and tap into the feelings that accompany the holiday traditions you look forward to year-round.
Start New Traditions: This year, everyone from companies to individuals have discovered new ways of doing old things. Some of these substitutes will fall by the wayside as health fears subside, but others are here to stay. (Who doesn't love curbside pickup!) Conjure up ways to extend some of your new "traditions" to a broader group of family or friends.
Engage and Enjoy
Upholding family traditions helps strengthen family bonds year-round, but especially during the holiday season. Different doesn't have to be bad. Consider this: when large families convene, younger generations often stick together while the "grown-ups" congregate around the table. A virtual event blurs these lines, allowing the oldest and youngest generations to directly engage and share their experiences. Before your holidays, you may want to survey your family, asking which traditions are important to each individual (Display). That can serve as a jumping-off point for conversations during a holiday dinner. You may be surprised what traditions are held dear by all and the values and lessons that result from sharing. So, "2020ize" your holidays and enjoy your (virtual) time together.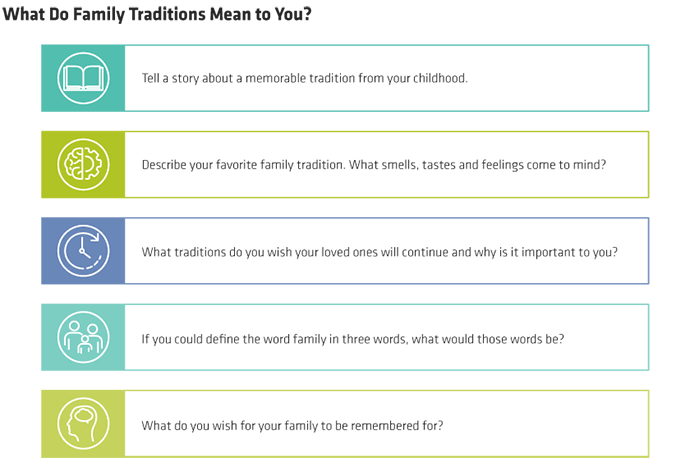 Author
Heather George

Director—Wealth Strategies