Recent national protests have raised society's awareness about social injustice and systemic inequity. And in today's interconnected world, even elementary-school-age children have likely seen events unfold in real time. But they may not fully understand or have the knowledge to assess complex socioeconomic matters. How can you productively explore the issues and engage your family to be part of the solution?
If your family has a philanthropic plan or is charitably inclined, these events can serve as a catalyst for giving back and making an impact. You can donate money, volunteer, or become an advocate. You can also let your portfolio do the talking—by investing with purpose to tackle social concerns, both locally and around the globe.
A Courageous Conversation
Talking about structural racism or social injustice feels uncomfortable for most people. And opening your kids' eyes—especially younger ones—to hate goes against a parent's natural instinct to protect and shelter them from harm. But ignoring systemic inequities won't make them go away.
Where should you start your courageous conversation? Take the time to engage children in what they're hearing or seeing, how it makes them feel, and what they can do to impact change. This creates awareness while allowing them to ask questions, express their feelings, and eliminate misinformation. It opens the door for a dialogue on individuality, equity, and inclusion, providing an opportunity to explain differences in races and cultures and to urge acceptance.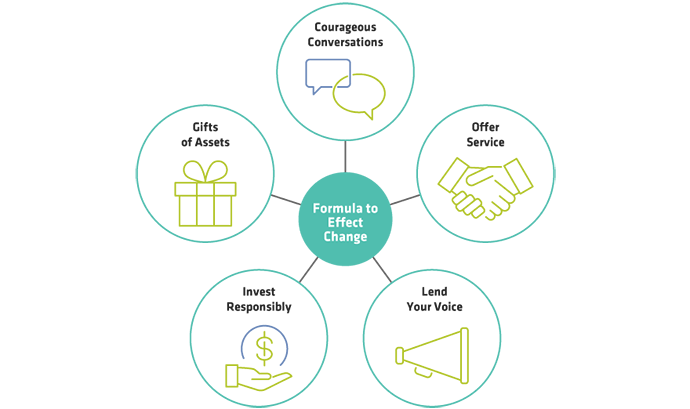 Toward a More Just Tomorrow
Creating awareness often sparks the will to act. How can your family get involved?
Together, you and your children can draft a plan of action—to donate money, time, voice, or effect change through your investment portfolios. The blueprint may include small gestures, like befriending a classmate from a different racial or ethnic background or donating a portion of a weekly allowance to local causes. It can also include big acts, like organizing a community drive.
Gifts of Assets: Research charitable organizations that address the issues. Family members can vote on which charities they want to support.
Example: Inequities in education became more pronounced during the pandemic as virtual learning became the norm. Your family can back organizations that provide computers or other supplies to under-resourced schools.
Invest for Change: Also known asresponsible investing, these strategies target positive environmental, social and governance (ESG) change using investment capital. Approaches vary, from engaging company management to diversify their board of directors to excluding companies whose products exploit historically marginalized communities. They may also invest in companies that are working towards improving access to technology or promoting racial equality through their educational programs.
Example: A bond portfolio that invests in a large school district where two-thirds of the students qualify for free or reduced-priced meals. The district offers multiple literacy, math, and intervention programs which have increased attendance and graduation rates.
Offer Service: Establish family days of service or ongoing volunteerism.
Example: Clean a dilapidated city park or school playground or organize an unused computer or office equipment drive. Encourage older children to become a Big Sister/Big Brother or form a buddy tutoring program between school districts pairing underprivileged kids with those from well-off communities. These acts of service bring together individuals who are not typically proximate, and show that despite some differences, there are many similarities.
Lend Your Voice: Advocacy may seem daunting at any age, but especially for young children. Start by discussing as a family how words can hurt or build up. And when kids encounter hate or bullying? Encourage them to speak up. One way is to prepare a "ready-made comeback" to quickly shut down negative talk.

Advocacy also occurs at the polls—by making your voice heard through your vote—or by contacting local and state representatives. Or sign a petition taking a stand. Older children can use their social media platforms to screenshot, share, and repost resources to educate others.
An Inspired Fight
Family engagement recognizes the importance of altruism, compassion, and goodwill, bringing to the forefront the gifts of assets, time, voice, or the use of investment dollars to make a difference. One is ever too young to start building awareness of social issues. And no investment is too small to influence the way companies behave. Uniting around a cause will inspire your family to engage and participate fully—to witness firsthand how small or big acts can make a difference and cause a ripple effect of change.
Authors
National Director—Family Engagement Strategy

Emily Neubert

Director—Family Governance
Senior National Director—Diverse and Multicultural Wealth Segments